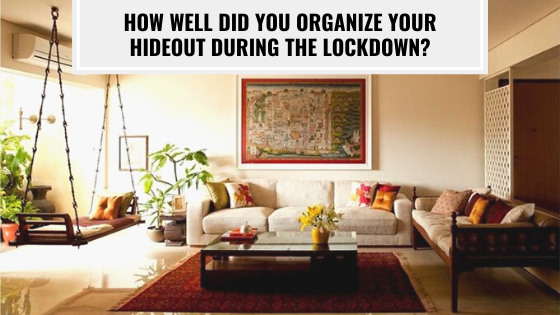 How Well Did You Organize Your Hideout During The Lockdown?
The COVID-19 has restricted many, in fact, millions of us into self-imposed quarantines around the globe. Though we were busy working at home at different levels of intensity and integrity, most of us might have had a feeling of getting claustrophobic at some point of time about all the items that we've accumulated so far. As the lockdown is lifted along with our uncontrollable angst, we get time to do something about our spaces. If you are looking to tackle that situation and give back some shape to your interiors, we are here to guide you to reorganize your spaces in an efficient way.
Clutter is the key to horror:
You've heard it right. It's not the number of items you have got that induces this claustrophobic feeling. It's the mismanagement of spaces and irregular organizing. Get yourself some storage units that fit your theme of interiors, colour palette and of course the space that you have. With this inclusion, you can keep collecting your favourite items like books, vases, relics, figurines etc, without making them a part of the clutter. Fortunately enough, a good storage unit can also work as a focal point to your interiors as well.
Pick the task one room at a time:
Despite the fact that we are all caught up in some or other work, we do get a lot of time for ourselves when we stay at home 24hrs a day. That doesn't mean we can reorganize our home, all at once. That is physically and practically not possible unless and until you have some help. If the work has to be done all by yourself, it's wise to segregate your work into different parts like each room at a time.
Give focal points the focus they deserve:
The best thing we can do to organize our spaces is to bring our favourite items to the front to give them the focus they deserve and discard the ones that we don't want. This not only makes finding what we're looking for quick and easy, but it also makes cleaning up easy too. This prioritizing of our items and keeping the things we use most within easy reach can be one of the best ways to keep things from getting disorganized all over again.
Want to make your work from home an efficient affair during these tasks? You can always take the help of nature. Yes, you can bring plants into your space to breathe some life into your home office. You can choose a specific area that helps you feel motivated, and optimize the aesthetics of your desk like the seating setup by using ergonomic task chairs, footstools, and computer screen height adjustments etc.
Hope we will come out of this soon and start our lives where we paused. Until then, stay home and stay safe.