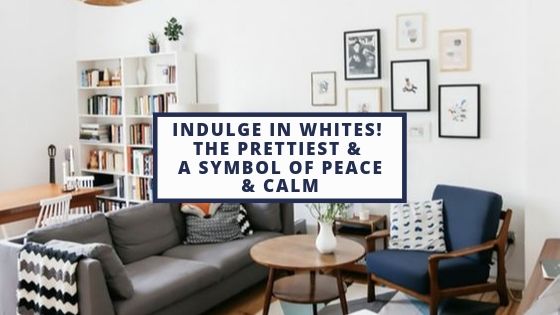 Indulge in Whites! The Prettiest and a Symbol of Peace and Calm
We think of an all-white room as a blank, dull, and boring space. But to an interior designer, it's a space with great aesthetic value when decorated right. We usually have a lot of questions when it comes to white, milky-hued, ivory, etc color tones. We wonder about the colors that can be paired, furniture that might suit, etc. 
Here are a few ways of how you can make a space of complete white interesting:
Prints usually black, featuring signs, quotes of symbols look perfect on white walls as they make a perfect backdrop for these. Similarly, you can add art pieces and other abstract prints mostly frameworks on white walls. This gives a minimal yet classic look.
White is a common color for bathrooms, but mostly we have a sink, tub, and toilet in white, so making less room to experiment. Hence, try adding a pop with some interesting tile patterns to warm-up space. 
Plain whites are so soothing to the eye, but white overdone can get boring. To beat this boring white look, spin it with some of the spindle posts and the quilts with texture. 
Fill in your plain ceiling with vintage, artistic hanging lights. The shades of black, brown and other pastel shades compliment the white in the most enchanting way. 
The white complements the vintage and rustic decor excellently. They don't just give you a warm look at space but also adds a rich sense of aesthetic beauty. 
From cozy coffee tables to organizers, collective boxes indulge in them all to add an aesthetic touch to your white space. You can experiment from wooden to the metal varied range of designs.