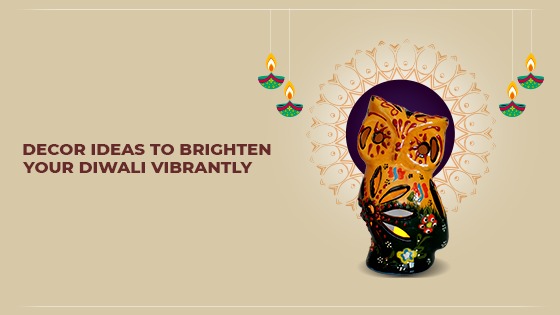 Decor Ideas To Brighten Your Diwali Vibrantly
It's that time of the year again when we need to light up our house all set for the glorious festival Diwali. Diwali is one festival where we don't just prep our selves but also decorate our homes. Whether you choose to go all out with your Diwali décor by starting well in advance or if you go by the less-is-more philosophy, everyone does a little something extra for Diwali days. 
We have compiled on how you can decorate your home beautifully this festive season. 
1)  There's more than just diyas and lights
Diwali is not just about diyas, but also about bringing out art in a way and usually it is in how we decorate our home. The lights and lanterns are an integral part too but so are beautiful decor. Decorate your home with beautiful artisan-made decor items like vibrant wall hangings, wall frames, wall plates, etc. Pump up your Diwali spirit with decor that speaks the art and adds a touch of artistic beauty to your home.  
2) Style your living room
Rearrange your furniture, try different cushion covers or sofa covers, curtains, etc to give a new decor feel. Along with these, you could also try adding new decor pieces like coffee tables, organizers which are aesthetically beautiful. Pick decor that has a generic Diwali design element, colors that give the festive feel. 
3) Add more light
Lighting for Diwali doesn't have to be limited to just diyas, lanterns and fairy lights, etc. You can light up your living space by adding artistic bulbs, lamps, something that has a quirky look and feel. You could also look into hanging pretty chandeliers, beaded or rustic also add, artistic candle holders. These don't just light up your space but also brings your home a very classic touch. 
4) Do it your way!
This Diwali give your home a simple yet classic festive touch with decor. Bring out the festival spirit with artistic decor which doesn't just enhance the look of your home but also give your living space an aesthetic appeal. Instead of overcrowding with festive decor minimalize with pretty and simple decor products whilst keeping Diwali in mind. 
Give your home the warmth of Diwali, and style it at your comfort. Choose a range of products from earthy, rustic, glitz and glamorous products. Have A Safe & Happy Diwali.