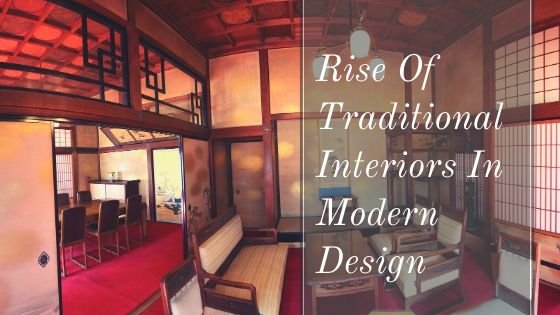 Rise Of Traditional Interiors In Modern Design
Do you reckon traditional interiors make your house look dated? Well, you need to re-think on that. 
Our quest to modernize our homes led us to the minimalistic and stark vibe. Whereas, traditional interior design hasn't lost its charm yet and many people are still employing it in their houses. Let's discuss the rise of traditional and rustic design in modern interiors. 
 "Beauty lies in the details", rightly so, as any interior design can be elevated or alleviated by the intricate details like appropriate decor. They can instantly transform dull and boring spaces to lively and inspiring ones. 
 The key to traditional interior design is the order and symmetry, i.e., placement and positioning of design elements. It is paramount and everything should hence come in pairs. This list includes sofas, chairs, lamps, and other accessories. This kind of pairing result in the balanced space and symmetry to elevate the focal point, a bit further, be it a fireplace or a television unit. 
Two of the key components in the traditional interior design are color and texture. They are the factors that can make your room pop. And the irony is people leave that as an afterthought. If you've been checking out the sites like Beige and Wenge, you will understand the texture of decor, be it marble dust or handcrafted wood.
Candleholders, classic lamps and clocks, intricately etched flower vases, chandeliers, and the list of the design accessories that we can use to get that traditional look is endless. The usual material of these accessories is bronze, copper or stainless steel. Whereas for the walls, wood panelling, rustic furnishings, heavy curtains, drapes are must-haves.
If luxury, royal look with elegance is what you are looking for traditional interiors with traditional decor is your go-to option.